SSW Welcomes Dr. Jamie Noël
SSW would like to welcome on board Dr. James Noël, Assistant Professor, Dept. of Chemistry
as an Affiliate Member of SSW. Jamie is an electrochemist and corrosion scientist, with special expertise in in situ neutron reflectometry, crevice corrosion, and electrochemical impedance spectroscopy. His research interests include corrosion of candidate materials for use in nuclear waste repositories and other nuclear systems, passivity of metals, the role of hydrogen in corrosion processes, corrosion under deposits (e.g., clay) and technique development, including electroanalytical sensors and neutron scattering for applications in corrosion science.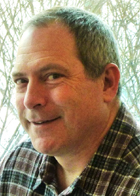 Jamie became an Affiliate Member of Surface Science Western in late 2016, but has been collaborating with SSW staff since 1998, when he joined the Department of Chemistry as Research Scientist. His 27 years as a research scientist, mainly solving corrosion problems for the nuclear industry, also include 2 years with the Systems Chemistry and Reactor Decontamination Project Group at Ontario Hydro and 7 years with the Fuel Waste Technology Branch at Atomic Energy of Canada Limited. At Western University he was Senior Research Scientist serving the 6 Industrial Research Chair terms of Professors D.W. Shoesmith and J.C. Wren.
Jamie is a recipient of the Lash Miller Award of the Canadian Section of the Electrochemical Society and currently serves the Electrochemical Society as Chair of the Education Committee, Secretary-Treasurer of the Corrosion Division, and instructor of a short course on the Fundamentals of Electrochemistry. He is Associate Editor of CORROSION Journal and a member of the Campbell Award Selection Committee for the National Association of Corrosion Engineers.