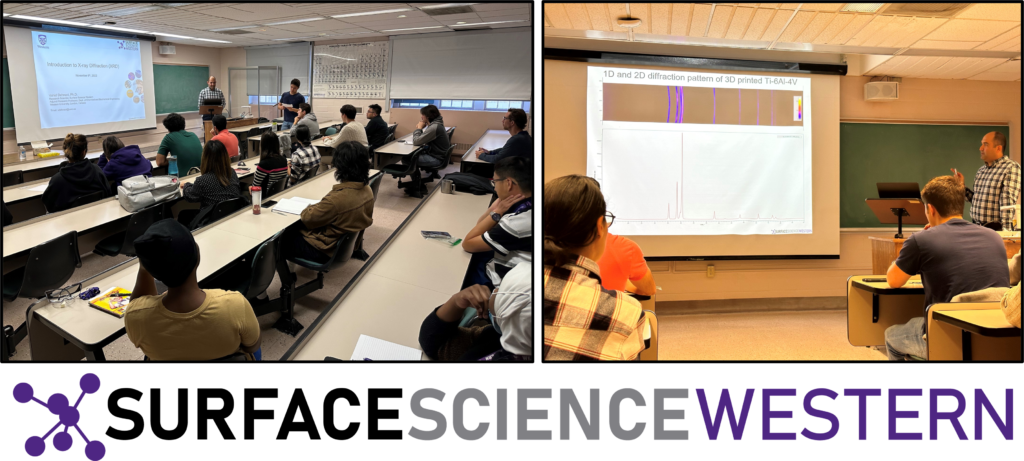 Dr. Vahid Dehnavi, SSW Research Scientist, recently gave an "Introduction to X-ray Diffraction (XRD)" lecture to Western University's Electrochemical Society (ECS) Student Chapter. This lecture was the first in-person lecture of a series of lectures that are being organized by the student-led group. This series aims to connect subject matter experts, such as Dr. Dehnavi, with ECS members to help shed light on techniques that can be utilized in the student's own research.
During his lecture, Dr. Dehnavi presented the basics of XRD, elaborated on various operating modes of the technique, and presented real-world examples using his wealth of experience in different industrial applications. After the talk concluded, Dr. Dehnavi undertook XRD-related discussions with the students, as many of the attendees were eager to explore this technique and how it could relate to their own research.
The ECS Student Chapter contains members at all stages of their educational careers, ranging from new to senior graduate and post-doctoral students. The research projects of the members cover a broad array of fields, such as solar cells, energy storage, and corrosion.
This was the Student Chapter's first in-person lecture in over two years and was a great success with over 25+ attendees.